Will Trump follow through as he promised?
Podcast
Will Trump follow through as he promised?
Show Description: Trump is appearing more like a war hawk since his more isolationist populist stance during the elections. Are we seeing Donald Trump being consumed by the establishment or will he shift to a more Reagan-esque leadership role?
Topic: War drums are pounding
Description:
The Russians and the Norks are beating their war drums.
resource link
For the second consecutive night, Russia flew two long-range bombers off the coast of Alaska on Tuesday, this time coming within 36 miles of the mainland while flying north of the Aleutian Islands, two U.S. officials told Fox News.
The two nuclear-capable Tu-95 bombers were spotted by U.S. military radar at 5 p.m. local time.
Unlike a similar incident Monday night, this time the U.S. Air Force did not scramble any fighter jets.
Instead, it launched a single E-3 Sentry early warning aircraft, known as AWACS, to make sure there were only the two Russian bombers flying near Alaska, and not other aircraft flying underneath the large bombers.
U.S. territorial waters extend 12 nautical miles from shore.
Two Russian bombers flew within 100 miles of Alaska on Monday night.
The Russian bombers took off from an airbase in Petropavlovsk, Russia and returned five hours later to an airbase in Anadyr. Both locations are in eastern Russia, some 1,000 miles away.
Last week in Moscow, Secretary of State Rex Tillerson said U.S.-Russian relations were at a "low point" during a news conference with Russian Foreign Minister Sergey Lavrov.
While Tillerson was in Moscow, a trio of Russian bombers flew near the east coast of Japan, forcing the Japanese military to scramble 14 fighter jets at various times to intercept the bombers. A Russian spy plane traversed Japan's west coast.
Before Monday's flight near Alaska, the last time Russian bombers flew near the U.S. was July 4, 2015, when a pair of Russian bombers flew off the coasts of Alaska and California, coming as close as 40 miles to Mendocino, Calif.
Russian President Vladimir Putin called then-President Barack Obama to wish him a happy Independence Day while the bombers cruised the California coastline.
In February, a Russian spy ship sailed up and down the East Coast of the U.S. while remaining in international waters.
Lucas Tomlinson is the Pentagon and State Department producer for Fox News Channel. You can follow him on Twitter: @LucasFoxNews
resource link
resource link
CHINESE military leaders have revealed they are testing their latest missile-laden destroyer in waters close to North Korea.
Footage released by state media shows navy crew launching weapons off the state-of-the-art Xining warship to help get sailors 'battle ready'.
The manoeuvres come as the communist country warned a "storm is about to break" on the Korean peninsula.
Tensions have reaching boiling point after the US moved warships to the area and Pyongyang stepped up a threat to defend itself with nukes in the face of pressure from President Donald Trump.
The Chinese ship's missile systems are being tested in the Yellow Sea – which separates China from the Korean peninsular.
Xining was unveiled in January and boasts a deadly arsenal of weapons designed for missions including air defence and submarine warfare.
Xiang Zhihong, a supervising officer with the Chinese navy's north sea fleet, reportedly said: "This live-fire exercise not only provided officers and sailors with an opportunity to fire the artillery, but also tested and regulated their firing techniques and help them gather battling experience."
It comes after North Korea's vice-foreign minister Han Song-Ryol threatened "all out war" in an officially sanctioned interview with the BBC from his capital Pyongyang.
He insisted that North Korea will continue to test missiles weekly – despite last weekend's high-profile botched launch.
PACIFIC STAND-OFF
China and Russia launch spy ships to chase US carrier away from Korean Peninsula amid knife-edge tensions
Mike Pence, the US vice president, today fired another clear shot across North Korea's bow warning Washington's "shield stands guard and sword stands ready".
Speaking to more than 2,500 US and Japanese military personnel on the flight deck of the USS Ronald Reagan as it was moored in the US naval base at Yokosuka, 50 miles south-west of Tokyo, Mr Pence warned Pyongyang not to test the resolve of President Trump or the US military.
"Storm clouds gather on the horizon", said Mr Pence.
"North Korea is the most dangerous and urgent threat to the peace and security of the Asia-Pacific", he said.
"As President Trump has made clear to the world, the era of strategic patience is over", he said.
Any North Korean use of conventional or nuclear weapons will be met with an "overwhelming and effective" response from the US military in the region, he warned.
resource link
resource link
Three weeks before becoming president, Donald Trump weighed in on the threat of North Korea developing a nuclear warhead capable of reaching the U.S.: "It won't happen," he vowed on Twitter.
Now planners are contemplating what a U.S. strike to prevent that development might look like, and the options are grim.
Analysts estimate North Korea may now possess between 10 and 25 nuclear weapons, with launch vehicles, air force jets, troops and artillery scattered across the country, hidden in caves and massed along the border with South Korea. That's on top of what the U.S. estimates to be one of the world's largest chemical weapons stockpiles, a biological weapons research program and an active cyberwarfare capability.
And with Seoul and its 10 million residents just 35 miles (56 kilometers) south of the border -- well within North Korea's artillery range -- any eruption of hostilities could have devastating human and economic costs. That's why the North Korean dynasty founded by Kim Il Sung has long hinged its survival, in part, on a warning that any attack could provoke all-out war.
"Unless you were in a crisis situation where we thought the North Koreans were getting ready to attack us, a preemptive strike against the North Korean nuclear and missile program is simply not a practical option," said Gary Samore, a former White House coordinator for weapons of mass destruction, proliferation and terrorism, who's now at Harvard University's Belfer Center. "This has always been the problem for the U.S. and our allies."
For a QuickTake on North Korea's nuclear ambitions, click here
After Trump ramped up his rhetoric against North Korea this month, the Pentagon ordered the USS Carl Vinson to head toward Korean waters, where the aircraft carrier is expected to arrive next week after some initial confusion in the administration on when it would go. Trump has warned that if China -- North Korea's closest ally -- can't help rein in the regime, the U.S. and its allies will.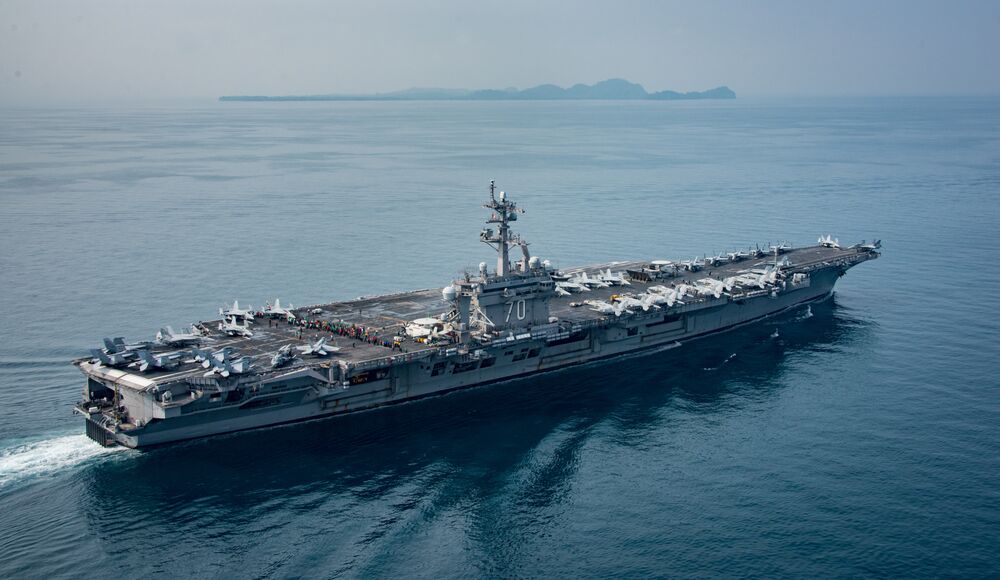 U.S. Vice President Mike Pence, who is meeting with allies in Asia this week, said in an interview with CNN airing Wednesday that he doesn't see the possibility of direct talks between the U.S. and North Korea "at this time." He also declined to comment on whether or not U.S. sabotage was behind the failure of North Korea's latest missile test.
Among the war-game scenarios at the Pentagon's disposal are an airstrike using precision-guided munitions, launched from submarines or stealth aircraft, against the Yongbyon nuclear reactor facility, where North Korea has produced plutonium for its bombs. That was an option weighed as far back as the Clinton administration, according to two former Pentagon chiefs.
"We were highly confident that it could be destroyed without causing a meltdown that would release radioactivity into the air," Ash Carter and William Perry wrote in a report for the Belfer Center back in 2002. That plan was seen as a worst-case scenario.
Stealth Bombers
Another option would be an attack on facilities at Punggye-ri, the mountainous site in the northeastern part of the country where previous underground nuclear tests have been conducted. 38 North, a website that focuses on North Korea, said satellite images signal recent activity in preparation for another nuclear test. Evading radar, B-2 bombers built by Northrop Grumman Corp. could drop "bunker buster" bombs to try to do the most underground damage.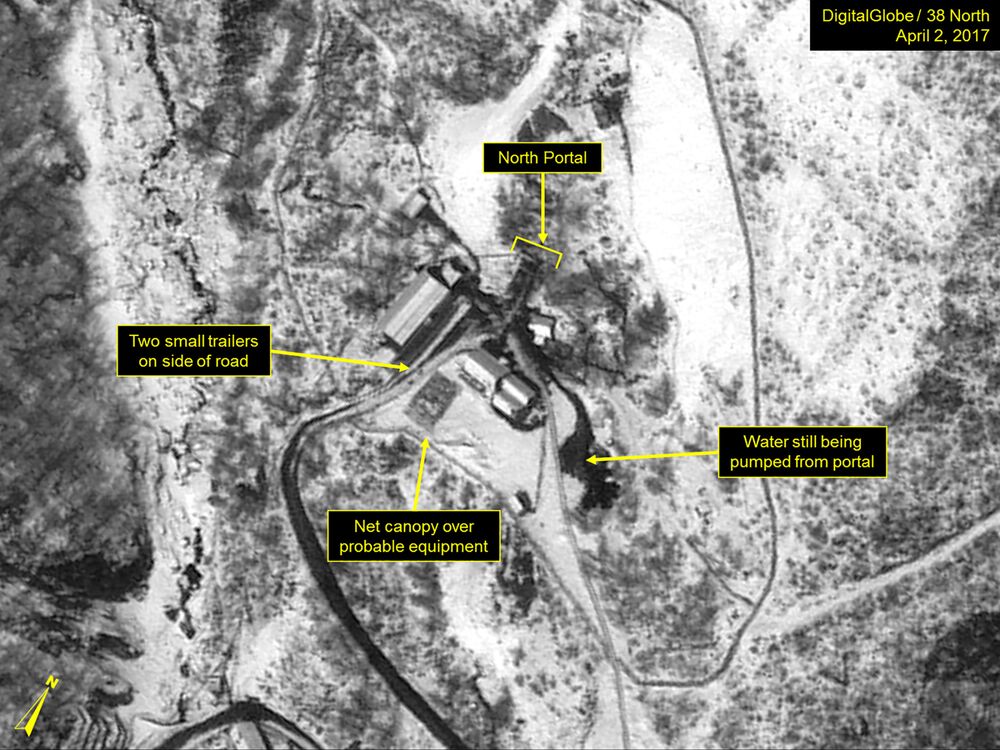 Or, if the U.S. learned that North Korea was preparing to test an intercontinental ballistic missile -- and it had confidence in where that missile would be launched -- it could take out the vehicle, or try to shoot it down.
That probably wouldn't save Seoul from devastation if North Korea responded to such a strike with a barrage of artillery or shorter-range missiles. In its defense, South Korea would go after the artillery that North Korea has massed near the demilitarized zone and use its Patriot missiles and anti-missile ships. In its final months, the Obama administration agreed to deploy a missile defense system known as Thaad to South Korea, but that shield isn't fully installed yet.
The decision to attack isn't Trump's alone. Because South Korea would bear the brunt of any North Korean response, the highest levels of the South Korean military and government would "all have a say in making momentous decisions" like "do we or do we not go to war," said Bill McKinney, a retired Army colonel who spent more than 40 years involved in U.S.-Korea military relations and planning.
Read more about how Asian allies are cool to Trump's talk of attacking
Any unilateral military action by the U.S. would threaten deep damage to its alliance with Japan, which also would be put at risk, and could bring China and the U.S. into conflict.
'A Crapshoot'
Yet the overarching challenge in an attack on North Korea continues to be gauging the regime's response. While the U.S. military might want to do something that sends a message but doesn't start another Korean War, Pyongyang remains strategically unpredictable. Outside analysts have to scour satellite imagery, state-run media, official regime photos and interviews with defectors to glean the barest clues about life and politics in the "hermit kingdom."
"Our ability to see into North Korea is so curtailed that we don't have the ability to make well-reasoned judgments about what's going on," McKinney, the retired Army colonel, said in an interview. The U.S.'s ability to know what weaponry is even in North Korea and where it is located "is always a bit of a crapshoot," he said.
North Korea's unpredictability has only increased under Kim Jong Un, grandson of founder Kim Il Sung, who has had family members and top military aides killed for real or perceived slights. Even a smaller U.S. strike, like the volley of cruise missiles Trump fired at Syria this month, might generate a response that's far from proportional.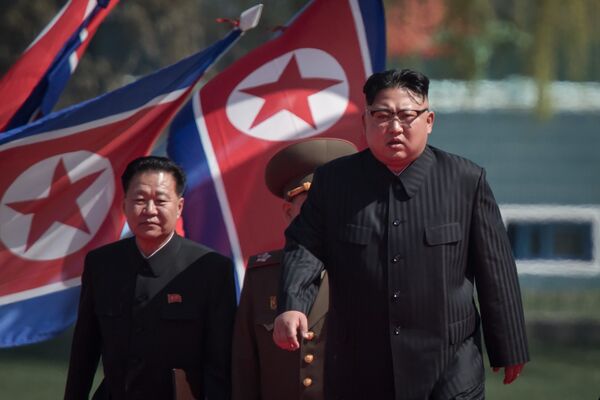 Casualty Estimates
"Some might say, 'Look, you know they can't respond because they're fearful of the consequences,"' said Bruce Klingner, a senior fellow at the Heritage Foundation. But Kim's regime could also say, "'Well guys, game on.' You can't guarantee what North Korea will do."
Klingner was the Central Intelligence Agency's deputy division chief for Korea from 1996-2001, after President Bill Clinton also considered strikes when North Korea was found to have been developing a nuclear capability. He said contingency scenarios at the time included estimates of hundreds of thousands of casualties, "and that was before they had nuclear weapons."
The situation facing the U.S. grows more dire as North Korea moves toward its goal of developing an intercontinental ballistic missile with a nuclear warhead that could hit the U.S. mainland. But in weighing possible responses, the administration must also decide how urgent that threat really is.
North Korea will need until at least 2020 to develop a nuclear weapon with that reach, according to John Schilling, a satellite specialist with the Aerospace Corp. The country still hasn't tested an ICBM, though it does have about 1,000 ballistic missiles, Schilling said.
No 'Imminent Crisis'
"This isn't an imminent crisis," Schilling told reporters Tuesday in a briefing organized by 38 North. "The imminent threat is to South Korea and Japan."
But Schilling referred to the regime's unpredictability, saying, "Probably their first response will not be nuclear -- it might not even involve missiles," Schilling said. "They have several levels of escalation to go before they get to nuclear weapons."
In taking on North Korea so directly, Trump confronts a problem that bedeviled his predecessors from both political parties. Six-nation talks, direct bilateral negotiations, food aid and United Nations sanctions have all failed to deter the Kim dynasty. Even China, Pyongyang's ally, has been snubbed by the Kim regime repeatedly over the years.
The debate over possible U.S. military responses predates anyone in the federal government today. President Richard Nixon considered tactical nuclear strikes after North Korea shot down a U.S. reconnaissance plane in 1969, according to documents declassified in 2010 and published by the National Security Archive.
War Games
"Nixon and his advisers were forced to heed the Pentagon's warnings that anything short of massive attacks on North Korea's military power would risk igniting a wider conflagration on the peninsula, leaving diplomacy, with all its frustrations, as the remaining option," Robert Wampler at the National Security Archive wrote at the time.
More than 30 years after Nixon, The Atlantic magazine ran a war-gaming scenario, assembling experts to come up with what a U.S. response would look like. Run by retired Air Force Colonel Sam Gardiner, the exercise ultimately ended in discord, with little agreement aside from the consensus that the North Korean problem would only grow worse over time.
Gardiner says events now have born that out. The Trump administration, like those before it, appears to have no clear objective for North Korea, Gardiner says, whether it's regime change, preventing Pyongyang from getting a nuclear weapon or something else. And he says most options for action could result in all-out war or, short of that, spur the regime to perfect the nuclear weapons it so desperately wants -- and which Trump says he won't let it get.
"In essence, there is no military option," Gardiner said. Asked what plan of action he would present to Trump if forced to pick one, he responded: "I would resign first."
resource link
resource link
Russian news report claims electronic signal jamming weapon can render planes, ships and missiles useless
RUSSIA has claimed it can disable the entire US Navy in one fell swoop using powerful electronic signal jamming.
A news report from the country – where the media is essentially controlled by the state – said the technology could render planes, ships and missiles useless.
The newsreader says: "Today, our Russian Electronic Warfare (REW) troops can detect and neutralise any target from a ship's system and a radar, to a satellite."

The news report claims a single Russian war plane flew several times around American destroyer the USS Donald Cook in the Black Sea several years ago, disabling its systems and leaving it helpless.

The report also claims they are capable to creating electronic jamming domes over their bases that make them invisible on radar screens.

Ferne McCann urges wanted boyfriend Arthur Collins to go to police 'immediately' over club acid attack - in the same week she talked of marriage in OK! magazine interview

The propaganda piece even quotes top US General Frank Gorenc as saying: "Russian electronic weapons completely paralyse the functioning of American electronic equipment installed on missiles, aircraft and ships."

The reporter adds: "You don't need to have expensive weapons to win – powerful radio-electronic jamming is enough."

The news comes after US president Donald Trump dispatched the USS Carl Vinson, powered by nuclear reactors, carrying almost 100 aircraft and accompanied by destroyers, a cruiser and a submarine to the Korean Peninsula.
And the commander-in-chief is said to be bolstering American deployment in the region by sending the USS Ronald Reagan and the USS Nimitz to the Sea of Japan next week.
Russia, along with China, is said to have sent a spy ship to the area to ward off the task force amid rising tensions in the region.
The ship movements followed comments by Russian president Vladimir Putin who urged the US to show "restraint".
resource link
Topic: Is populism dying or flying
Description:
Was Donald Trump the pinnacle of the rise of populism or just the beginning.
resource link
As President Trump approaches the end of his first 100 days in office, he has received by far the most hostile press treatment of any incoming American president, with the broadcast networks punishing him with coverage that has been 89% negative. The networks largely ignored important national priorities such as jobs and the fight against ISIS, in favor of a news agenda that has been dominated by anti-Trump controversies and which closely matches what would be expected from an opposition party.
For example, President Trump's push to invigorate the economy and bring back American jobs received a mere 18 minutes of coverage (less than one percent of all airtime devoted to the administration), while his moves to renegotiate various international trade deals resulted in less than 10 minutes of TV news airtime.
Eight years ago, in contrast, the broadcast networks rewarded new President Barack Obama with mainly positive spin, and spent hundreds of stories discussing the economic agenda of the incoming liberal administration.
For this study, MRC analysts reviewed all of ABC, CBS and NBC's evening news coverage of Trump and his new administration from January 20 through April 9, including weekends. Coverage during those first 80 days was intense, as the networks churned out 869 stories about the new administration (737 full reports and 132 brief, anchor-read items), plus an additional 140 full reports focused on other topics but which also discussed the new administration.
Five big topics accounted for roughly two-fifths (43%) of the whopping 1,900 minutes of total network airtime devoted to the Trump administration. But those five topics accounted for a much larger share (63%) of the negative coverage hurled at the administration, as the networks covered each with an overwhelmingly hostile (more than 90% negative) slant.
resource link
resource link
PARIS (Reuters) - France's far-right National Front stepped up its anti-European Union rhetoric on Wednesday, days after toughening its stand against immigration, in an apparent bid to mobilize its core supporters ahead of Sunday's presidential election.
Opinion polls have for months predicted that National Front (FN) chief Marine Le Pen would attract enough votes to make it to the two-way runoff on May 7 but the gap with other contenders has narrowed, and the rhetoric of her party has sharpened.
"You'll see, we'll soon stuff your oligarchic rag in the cupboard," Le Pen's second-in-command, Florian Philippot said of the EU flag in a message on Twitter.
He was reacting to the European Commission's representative office in France, which posted on Twitter: "Proud of our flag, symbol of unity, solidarity and harmony between the peoples of Europe. Let's not hide it."
The EU executive was referring to Le Pen's demand on Tuesday night that French TV station remove the blue, yellow-starred EU flag from the stage where she would be interviewed, leaving just the French blue-white-and-red flag.
"I want to be the president of the French Republic. I don't want to be European Commission president. I consider the EU has done a lot of harm to our country," Le Pen told TF1 when asked to explain her demand that the EU flag, a frequent feature in such situations, in the background.
Le Pen on Monday pledged to suspend all immigration with immediate effect if elected, a proposal that does not appear in her manifesto but that touches on a subject which is crucial to her core supporters. It goes further than her previous plans to curb migration.
EU-bashing is popular with grassroots FN supporters, though opinion polls show a healthy majority of French are attached to EU membership.
(Reporting by Ingrid Melander and Simon Carraud; Editing by Brian Love)
resource link
resource link
The four-candidate battle to reach the runoff in France's presidential election is putting pollsters to the test as never before.
With just a few days to go before Sunday's first round of voting, every poll for the past month has shown independent Emmanuel Macron and the National Front's Marine Le Pen taking the top two spots. Macron would then easily win the May 7 runoff, polls show. Yet both front-runners have been steadily slipping over the past two weeks, and Republican Francois Fillon and Communist-backed Jean-Luc Melenchon are now within striking distance.

It's a challenge for French pollsters, who have a near-perfect record in forecasting the vote share for the top five finishers in the first rounds in 2007 and 2012 and the subsequent runoffs. Until recently, the expectation was that France wouldn't have an electoral shock like Britain did with Brexit and the U.S. went through with the election of Donald Trump.
"This situation is totally unprecedented," said Emmanuel Riviere, managing director of Kantar Public France. "The fact that there are four potential finalists makes the situation very complex."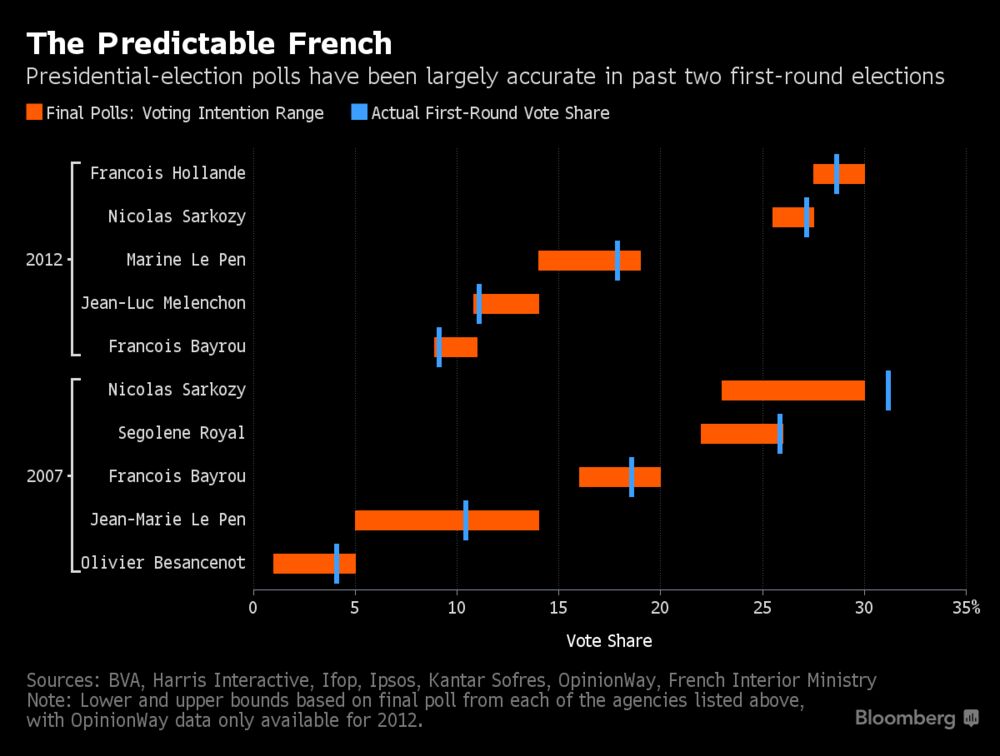 French political pollsters are aided by heavier reliance on Internet polling than in the U.S. and the U.K. And French elections are simple -- one person, one vote, across the nation. The two-round system means a straight face-off between the top two candidates in the runoff, reducing voter options.
The difference for this year's first round is that the top four candidates are within a range of fewer than 4 percentage points. Given margins of error that are typically between 2.5 points and 3 points, the race is tighter than it might initially appear. On top of that, as many as 40 percent of voters have yet to decide on their candidate, according to estimates by multiple polling firms.
Despite the tightening polls, bookmakers still make Macron the favorite, with a 51 percent chance of winning. Fillon is next at 26 percent, having overtaken Le Pen this week. The National Front leader is at 24 percent and Melenchon at 11 percent. The bookmakers surveyed are based outside of France, where it is illegal to bet on politics.
Get the latest on the French election here
Pollsters haven't forgotten 2002, when Jean-Marie Le Pen, Marine's father, unexpectedly qualified for the runoff. That was considered a big fail for French polling, and companies say they've adjusted their methods since then.
Nor do they confront quite the complexities their colleagues in the U.K. and the U.S. did. In the case of Brexit, it was only the second nationwide referendum on EU membership since 1975, meaning pollsters had no voting history to weigh polling results. And the U.S. electoral system is so convoluted, even many Americans don't understand it.
"There's one round, 50 states, and an electoral college -- we have nothing close to that complication," said Edouard Lecerf, director of political opinion studies at Kantar TNS.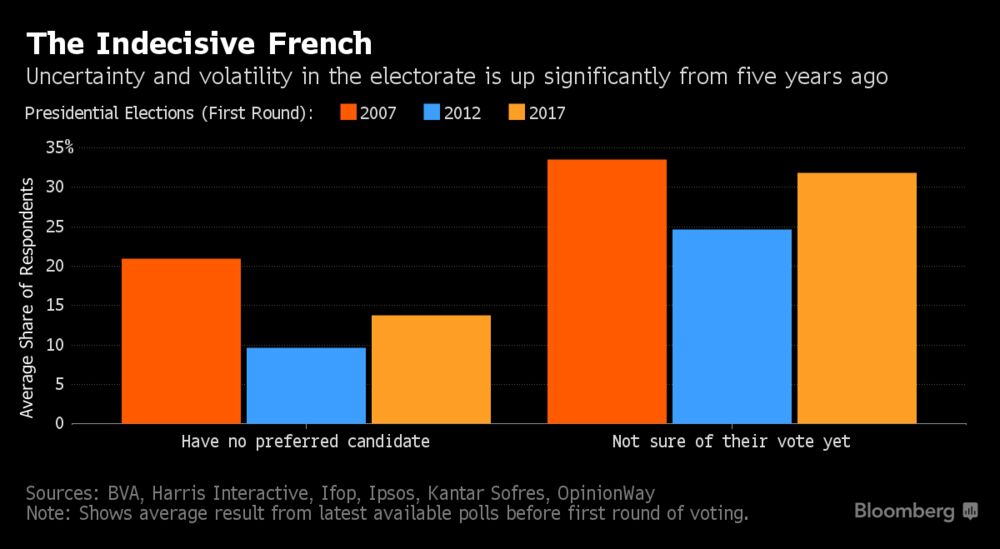 Helmut Norpoth, a political science professor at New York's Stony Brook University who predicted Trump's victory, says French pollsters are right to collect information via Internet surveys.
"The reliance on telephones in the U.S. and the U.K. is a problem," he said. "They are dinosaurs."
A generation ago, about one-third of people would agree to be questioned when called, said Jerome Fourquet, director of opinion studies at pollster Ifop. Now it's about 5 percent. At the same time, the number of people with an Internet connection is now about the same as those with a phone. "Online polling is more reliable," Fourquet said. "People are less likely to be shy about their vote on a computer screen than when talking to a human by phone."
Representative Sample
Registered voters are contacted by email and asked to answer a series of questions. Then they're grouped to ensure a mix of ages, social class and the like to ensure the sample is representative.
The five polls carried out on April 19, 2012, the last day polling was allowed before the first round that year, showed Socialist Party candidate Francois Hollande winning between 27 and 30 percent. On voting day three days later, he won 28.6 percent. Incumbent Nicolas Sarkozy was credited with 25 to 27 percent, and won 27.2 percent. Polls were similarly accurate before the 2007 election.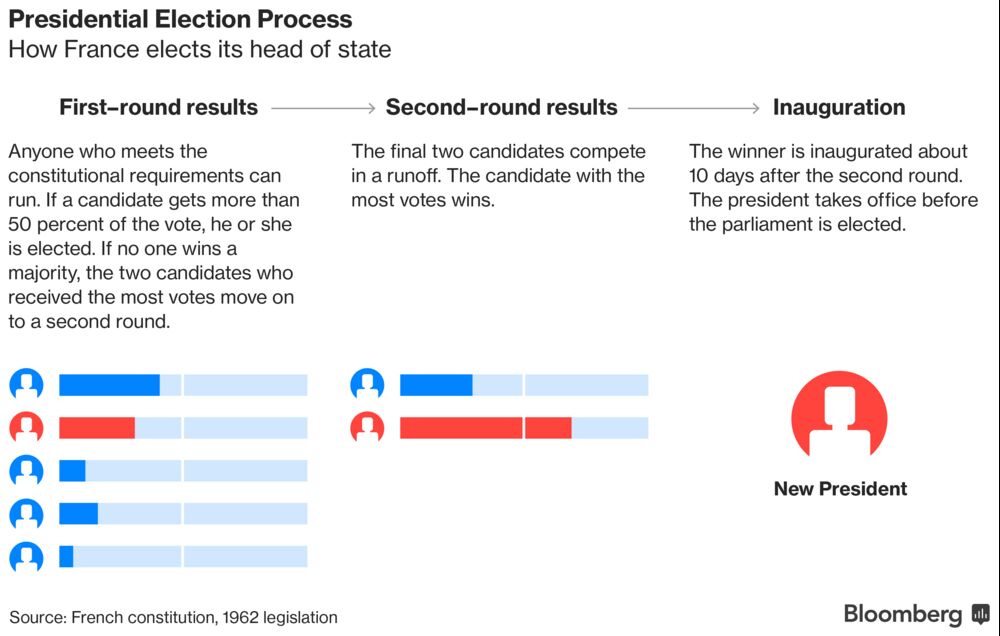 As of Tuesday, Macron was running at 23 percent and Le Pen at 22.3 percent, according to the Bloomberg composite of French polling. Fillon and Melenchon are both at 19.5 percent. A Kantar Sofres Onepoint poll released late Tuesday had Macron at 24 percent, Le Pen at 23 percent, Fillon at 18.5 percent and Melenchon at 18 percent. In the second round, Macron would defeat Le Pen by 64 percent to 36 percent, according to Opinionway, which also says Fillon would defeat Le Pen 58 percent to 42 percent.
According to Kantar's Riviere, 60 percent of French voters are sure of the choice they have made this year. In 2012, 71 percent of voters had made a firm decision and in 2007, 66 percent had done so. Only in 2002 were voters about as unsure.
Noting that most of the undecided voters were on the left, Riviere said: "There is a real sense of hesitation about what to do."
(Updates with bookmakers in seventh paragraph. An earlier version of this story corrected a spelling mistake in the deckhead.)
resource link
Produced by Battlefield Radio
We are here to fix the machine. The machine is the federal government that has been fundamentally transformed the serve the elite instead of "We The People". Our goal is to engage our fellow Americans on the battlefield of ideas to discover the most ideal way for our nation to be governed to provide the most security with the maximum amount of liberty and freedom for all American citizens.
0 Responses
leave a reply
login to reply to thread