Blog
A Story of Seventeen
I'll start with this personal admission: I am having a hard time weeping for the Parkland victims and confess my callousness. The massacre happened in a quiet Florida community on a bright, sunny day like today. Nevertheless, I've waited over a week to begin putting my thoughts on paper in respect for the dead. I wanted to allow time for the 17 hearses to slowly proceed, for the 17 memorials to be written, for the 17 families to grieve, and, if necessary, to protest how the unthinkable happened and to guarantee that it won't happen, again. I've followed the debate, listened to the many calls for gun-control, and wondered why I don't feel anything. What is wrong with me? Perhaps, it is as Jake Eakin expressed, "We are distressed by massacres while we live at peace with a holocaust."
My introspection was interrupted last Tuesday by a call from Michele to join Pat on the sidewalk of All Women's Health Center. I guesstimated the time of my arrival would be around 11 a.m. I actually arrived a little earlier than expected, but Pat was saddened that I appeared to be tardy since the clinic had already been opened for hours. In fact, she keeps a tally of the cars pulling in as she faithfully pleads with parents who intend to hire an assassin to murder their child. She reported that 17 cars had already entered the parking lot and that now the overflow was in a cul-de-sac on the other side of Maitland Avenue. She asked me to stand on the other side of the parking lot to persuade those crossing the busy street not to proceed with their agenda to hire an assassin to murder their child. It was an unusual morning to be sure, but from the moment she mentioned the number 17, I knew that it was time to write this article. I ask you to read and consider my plea for the soul of America.
""These funerals can be very empowering," said Priti Kothari, a child and adolescent psychiatrist based in nearby Boca Raton who knows many of the families involved, including a neighbor who lost a child in the shooting.

"There is a lot of noise in the media and so many unanswered questions," she said. "But in the intimacy of a funeral, you hear all the beautiful stories of these children, their vision of life and how you can carry it on."

"...On Sunday, they memorialized geography teacher Scott Beigel and two 14-year-old students: Jaime Guttenberg, a freshman girl who loved dancing, and Alex Schachter, a freshman boy who played trombone in the school band. Both students had older siblings who survived the shooting, relatives said. - Kevin Sullivan, Washington Post
Contrast that to the fate of the 17 children who were brought to this one abortion clinic this morning and then multiply it exponentially. If you don't believe me, just check the abortion clock now.
The first thing that impacts me is that these 17 children will likely never be named unless their parent or someone impacted by their death attends post-abortion therapy.
Sydney Masse began Her Choice to Heal so that her child's death would not be in vain. Sadly, the world has been robbed of the purpose and gifts of those aborted just as surely as we have been denied the gifts of the 17 killed at Marjory Stoneman Douglas High School.
Consider the evolution of the Hippocratic Oath in relation to our disdain of human life in the name of convenience:
Doctors and other health-care workers swear by the Hippocratic Oath before practicing medicine. The classical version of the oath reads in part: "I will neither give a deadly drug to anybody who asked for it, nor will I make a suggestion to this effect. Similarly, I will not give to a woman an abortive remedy. In purity and holiness, I will guard my life and my art." A more modern version, written by Louis Lasagna in 1964, addresses the issue of dealing with human lives. "Most especially must I tread with care in matters of life and death. If it is given me to save a life, all thanks. But it may also be within my power to take a life; this awesome responsibility must be faced with great humbleness and awareness of my own frailty. Above all, I must not play at God."
As Americans, we have raised our "right to privacy" far above conventional accountability which is the only thing that causes one to answer to another for our intents and actions. Instead, we blithely whistle "Aint' nobody's business if I do!" all the way through an affair, and unplanned pregnancy, and an abortion. In fact, Mary Ziegler explained Roe v. Wade Was About More Than Abortion.
Civil libertarians, feminists and supporters of L.G.B.T. rights argued that the right to privacy stated in the abortion decision covered other decisions about sexual intimacy. The American Civil Liberties Union used Roe in defending sex workers, gays and lesbians, porn stars and women cohabiting with their boyfriends.
The right to privacy is the reason that we grieve for seventeen high schoolers/staff gunned down in their classrooms and halls but mind our own business when seventeen-plus cars pull into an abortion clinic on a Tuesday morning. In fact, her "right to privacy" is the reason that we choose to deny the humanity of the unborn child even though we KNOW that he or she is capable of feeling the agony and torture of an abortion. From Lifenews:
President Trump condemned late-term abortions and supported the bill during his March for Life address.

Noting the 45th anniversary of Roe v. Wade, Trump lamented that the United States is one of only seven countries in the world that allows elective abortions after 20 weeks.

"As you all know, Roe vs. Wade has resulted in some of the most permissive abortion laws anywhere in the world," Trump told the crowd.

"For example, in the United States, it's one of only seven countries to allow elective late-term abortions, along with China, North Korea, and others," the president said. "Right now in a number of states, the laws allow a baby to be born [torn] from his or her mother's womb in the ninth month. It is wrong. It has to change."

"I strongly supported the House of Representatives Pain-Capable bill, which would end painful, late-term abortions nationwide," Trump said. "I call upon the Senate to pass this important law and send it to my desk for signing."
Tuesday was an unusual morning for me in other ways. The driveway that Pat asked me to stand at is shared by choice: the abortion clinic is on one side and a pregnancy help center is on the other. Normally, I call out to drivers who safely-closed behind tinted windows wait for the traffic to clear never turning their face toward me or accepting the brochure that I hold out to let them know that help is right next door, that they may even be able to reverse an abortion if they are using RU 486. That morning, however, Norma and Rosemary asked me to take a photo of their new sign and they stood with us (Pro-life Action Ministries and 40 Days for Life) to share the possibility.
I also had a man, with eyes red from crying, stop there in the shared driveway. He thanked me for being there, took my brochure, saying that his wonderful 12-year-old daughter whom he loved dearly, had almost been aborted. I pleaded with him to return to the clinic and pull out the woman he had just dropped off and he agreed! I was so exuberant that I rushed to share the information with Pat. In fact, we later saw them across the street, both of them. Unfortunately, they were only there because the parking lot was still full. Later, despite regret and sobbing from both of them as they waited for their turn in the plastic lawn chairs outside the clinic, that child apparently died along with the seventeen (or more) others.
Pat and I also had another visitor whose express purpose for stopping was to inform us that we were doing it wrong. Apparently, she had seen us and other sidewalk counselors standing with graphic signs (that day we only had signs provided by 40 Days for Life) and begging them to let their baby live only shamed women and would never be an effective deterrent. She's wrong, fortunately: I just attended a gender-reveal party for a mother and father who learned "It's a Boy!" that they almost aborted. Ironically, we will never know about the others...
Just as I shared here last year, my question remains, "Ask Me If I Care". If so, please visit 40 Days for Life and be a silent witness in prayer or become a voice for the voiceless. I just checked and 95 babies are alive because of the campaign that began, believe it or not, on Valentine's Day.
I can't say it any better than Benjamin Watson:
The horrific attack this week that took the lives of seventeen Americans is sickening. Across this land these images grip our hearts as we burn the midnight oil asking "Why" and searching for the correct action to combat such evil.

Over this week while we have been driven to our knees as countless voices invoke prayer, I am haunted by the fact that this very exercise is forbidden in this school and thousands of others across our nation. I ask myself, "If He is God in crisis is He not also God in peace?! If he is worthy of our desperate cries in distress is he not worthy for us to seek Him and submit our lives to Him daily?"

God is not a cosmic vending machine to be used at our disposal only when the problem or pain is greater than our ability to control it. And while because of His love and mercy He is compelled to hear our pleas and meet us in these times, by forcing him out of the public arena it is only us who will collectively suffer.

In times like this, we loudly reiterate the charge to each citizen to RESPECT LIFE yet we sanction the disintegration of our families bonds, the murder of our unborn children and the excessive incarceration of our young men. Even now, the climate in this country is tense and toxic, with accusations and conspiracy reaching the highest levels of our government. Insults without contrition are spewed, creating ripples of animosity vengeance and strife among the populace. Instead of staunch fundamental yet respectful disagreement with the other side, we hate the other side and have no qualms about expressing it in the most descriptive and vile ways in written and spoken word. We are too proud to apologize and too angry too forgive. We lie and omit truth, cleverly selecting words and phrases to fit our narratives and support our agendas. We encourage a lifestyle of relativism, free expression, and a capricious standard of morality that is based on whims rather than wisdom. We condone and sometimes celebrate violence and abuse in various forms.

While justice demands this young man in Parkland Florida be held accountable for the heinous plan he carried out by his own volition, we must have the courage to take an honest assessment of our culture in its totality and how it relates to this tragedy and others like it.

I pray. For comfort strength healing justice and peace in what has proven to be an increasingly recurring saga. These acts of violence indict the criminal as well as the society he emerged from. While we must address the individual incident, the perpetrator and the circumstances we must have the willingness to unveil the myriad contributing factors to the crisis we are in. Fire arms legislation, security, parenting, family, rights, relativism, morality, media, conflict, violence and the wicked human heart all play a role and all must be boldly addressed.

I mourn. For the Parkland community and all those directly impacted by these actions of evil. In truth we are all affected by these events because while one community suffers another is still healing and another waits in fear of what tomorrow could possibly bring. No family should have to face such an unconscionable reality.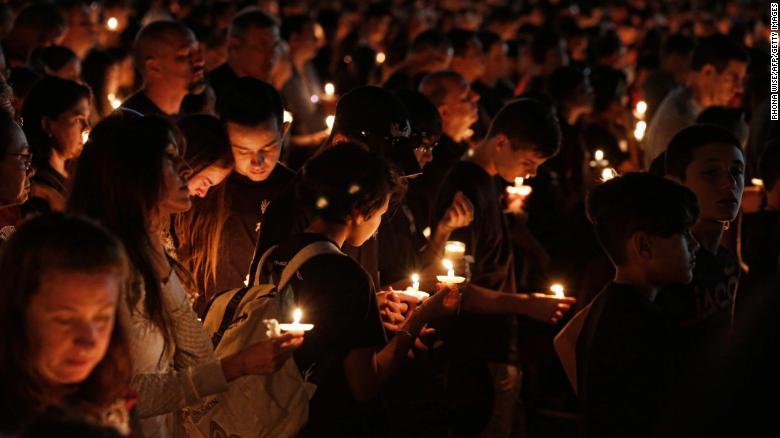 We know that we are aborting babies and that many of them are capable of feeling the agony of our callous choice. (View "The Silent Scream".) Yet, according to LifeNews, Democrats Defeat Pro-Life Senate Bill Banning Late-Term Abortions After 20 Weeks. "We don't even care whether or not we care!" (Morla, The Neverending Story)
We can't point fingers even as we stand and plead praying for a woman to have mercy on her child because we are all complicit by law. We worship our right to privacy so much that we have defected from humanity.
We decided to place a sign in each school after the Parkland shooting claiming "In God We Trust". We must remember that this God has provided the Ten Commandments as well as dying for our sins. He is not mocked. (See Gal. 6:7) It's time for a revival, America. As Billy Graham (whom we rejoice with) said, "It's going to be quite a revealing thing at the Last Judgment when we see everyone standing naked before God." So much for our "Right to Privacy".
Written in memory of the seventeen...
Written by Christine Hammett
Chris Hammett is a contributing writer for the Common Sense Constitutional Conservatives Media Group.
0 Responses
leave a reply
login to reply to thread